right
BOND
®
rightBOND®, Aluminium Composite Panel is made by bonding aluminium outer layer sheet to base aluminium sheet with a athmospheric core. The pre-finish aluminium coils are coated on an ISO 9000 compliant state-of-art continuous coil-coating production line with double coating and baking stations.
Product Variants:
Features:
Super Quality Finish
rightBOND® surface is pre-finish giving a superior solid, metallic printed and other finishes.
Lightweight
rightBOND® 4mm standard panel weights approximately 5.5kg/m2 providing considerable saving in transportation, fabrication, installation and shortens the completion time of projects.
Easy to Fabricate
rightBOND® can be cut, routed, folded, bent, sewed, curved and shaped with light convetional tools. Rigidity and Flatness are maintained during such process due to its composite construction.
Composite Construction
Due to its composite contstruction
rightBOND® offers many advantages over conventional homogenous materials such as solid aluminium and steel.
Comparison Chart (rightBOND®, Solid Aluminium and Steel)
Comparison Chart (rightBOND®, Solid Aluminium)

Quick Installation
rightBOND® can be easily formed into panels by way of routing and folding. The modular panels can be formed in the factory or on the site and can be quickly installed with convetional fastening and cladding systems. This feature can be save huge labour cost and shorten completion time, rightBOND® is also compatible to most cladding systems used.
Resistant to Blow and Breakage
rightBOND® panels have high strenght and rigidity with excellent dfelection capacity. The rigidity of 4mm rightBOND® panels approximately equals that 3.3mm or 2.4mm steel.
Weatherability
rightBOND® panels are coated with superior coatings and finishes that provide resistance to fading color, weather damage, corrosion and chalking.
Easy Maintenance
The unique feature of rightBOND® panel is its low resonance, not attainable by other building materials.
Sound Insulation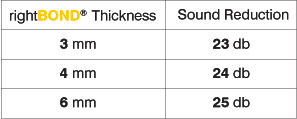 4mm rightBOND® panels have a sound reduction about 25bB which is nearly double than that of other building materials.
Easy Maintenance
Panels can be washed with water and mild detergent using a sponge or soft brush.
Thermal Expansion
Thermal Expansions is deffectively controlled by aluminium cover sheets. At a difference in temperature of 100K, the actual linear expansion is 2.4mm/M.
Applications:
Coming Soon!
Resources
Products Quick List